News - Feature Stories - Magazine - Robert Gant
Robert Gant works it out
Superheroes are very big right now.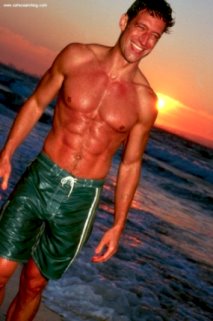 Yes, they are. You know, I don't really know. I'm open to whatever's out there. I'd love to start doing some film work. And I think Queer as Folk really prepares one for that, as far as each episode feels like a little independent movie. They use the preeminent Canadian independent film directors to direct these different episodes, and that's why they have the feel that they do. So it feels like we're making a little movie.
Having done Queer as Folk and also feeling like you can be more honest about yourself, does that give you more ability in your work to play somebody that you're not—like the nice boyfriend you played on Caroline in the City?
There's no question that the more honest I've become in my life, the more I've been freed up as an actor. And this, I'm certain, will have an enormous effect on my sense of freedom as an actor to create. It has a huge impact on my ability to express myself because I'm not having to sit in my head and be a constant watchdog to what I say so that I don't happen to say something that says too much.
What is that self-policing about? Why are actors still so afraid to come out?
It's fear. It's always fear. We're afraid that we're going to experience the kind of rejection that we either experienced when we were younger, or believed we would experience, yet we never did. So we're this fucked-up group around that. Hollywood can be so much about facades that it fits in perfectly with that whole gay kid thing: "Let me create this facade, and maybe no one will know who I really am—this glamorous exterior I need to exist in the world." The Hollywood culture only reinforces that. [But] it is absolutely changing. The world is changing. Are there still reasons for fear? Sure. Will there always be? Probably. I would like to contribute to those fears going away.
Does it help that gay consumers are increasingly visible?
Yeah. I said this to the people in Orlando—I was introducing episodes 18 and 19, and they were going to be the first people to see it before the rest of the country and they were all excited. And I took just a moment to say, "This is really exciting, we have Showtime to thank, we have lots of people to thank, but don't fail to realize that you have yourselves to thank more than anyone, because you are spending the dollars, you are buying the subscriptions, doing whatever it takes to cause people to perk up and take notice." There's a power and an energy there to instigate change that's untapped. It doesn't take much for this group to just step over. It's about ticket sales.
Your first contact with the Queer as Folk phenomenon was not as part of the cast, though. You're now the only leading actor on the show who got to watch the first season and see the response to the first season before you joined the show. What did you think of that first season—just as a gay man watching Queer as Folk?
I was really excited. I was blown away by the look of the show. I had seen the British production, and I'm one of those folks who didn't have a problem at all with how different this was. In fact, I expected it to be [the same]. I really saw them as apples and oranges because this is America [chuckles].
And it's an open-ended series that Showtime hopes will run for years, as opposed to the self-limited U.K. version. That time line requires a whole different concept of character and story line.
Exactly. And they're interested in drawing a really broad-based viewing audience. I don't think that the original production was so concerned with that. Here, profit's a part of it—welcome to America [chuckles]. This is part of what drives our industry.