News - Feature Stories - Magazine - Robert Gant
Robert Gant works it out
From fat kid to lawyer to hunky new star on Queer as Folk, Robert Gant has been through remarkable changes.
His latest transformation? For the first time ever he's ready to talk about his life as a gay man.
By Bruce C. Steele
Part 1 in a series of unpublished outtakes from the Q&A, posted July 23, 2002, exclusively on Advocate.com. PLEASE NOTE: ROBERT GANT'S COMING OUT INTERVIEW IS AVAILABLE ONLY IN THE PRINT EDITION OF THE ADVOCATE. THESE EXCERPTS ARE OUTTAKES ONLY.
Standing in a sand pit in a playground off Santa Monica Boulevard in Los Angeles, Robert Gant could easily pass for the muscular guy who kicks sand in skinny kids' faces—could, that is, except for that radiant smile he flashes. It's the grin of the onetime weakling who has transformed himself into the strong, confident homecoming king; the smile that says, If I can get here from there, you can too.
Gant, 33, whose friends call him Bobby, is at once a teacher and a learner. He has that in common with Ben Bruckner, the HIV-positive literature professor he has played this season on Showtime's hit series Queer as Folk. The show's writers envisioned Ben to be "just as comfortable in front of the classroom as he is on the dance floor," Gant recalls, and the actor seems just as comfortable in a playground posing for beefy photographs as he was a few days earlier talking about his personal and spiritual growth for this interview.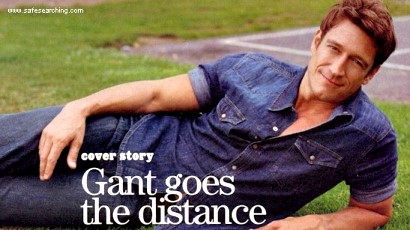 But finding comfort in his own skin has been a long journey for Gant. Coming out publicly in this magazine is just the latest step in his lifelong effort to meld sometimes wildly different impulses. He once aced classes at the University of Pennsylvania and Georgetown University Law School on his way to a position with the world's biggest law firm. When the firm closed its L.A. office just a few months into his job, Gant returned to the love of his life—acting—and now has 10 years as a working actor under his belt.
But even though some may recognize him as Phoebe's beau on Friends or Vice Principal Krupps from Popular, it's Ben Bruckner who has transformed Gant's life. Not only is Queer as Folk a steady gig ("Ben will be back every episode next season," he promises), it quickly brought him to the realization he needed to go public as a gay man. It was one thing to entertain the children as the Good Humor Man in one of his 40 or 50 television commercials and not be openly gay—"I remember thinking how ironic it was that I was this gay guy playing this American icon," he says. But it was quite another to find himself on gaydom's most-talked-about series and have to dodge the question when Larry King asked if he was gay.