DVD - Season 1
Intro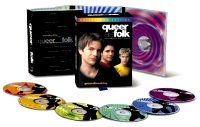 At last I have a DVD copy of the First Season of Queer as Folk (US version) and know what? I can't hardly wait for the 2nd Season DVD to arrive after February 25 'coz I pre-ordered it already.
Before, I used to watch the episodes in my notebook - which I downloaded from Kazaa. I have to content myself with the poor quality but I had no choice. Beggars are not choosers, anyway. :-)
Now, I have all the time to watch the episodes over and over again in all its fabulous colors and crisp sounds. My God, the music in Babylon dance scenes makes me feel as if Im there, oh pardon the illusion.
Of course, having the DVD copy not only let me experience the audio and video in superb quality but also enabled me to view the more than 3 hours of extra footage as well as other features.