Info > Character
Ted Schmidt - The Average Guy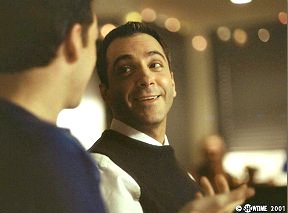 Ted could be the most insecure queer man in Pittsburgh. A hottie in his own-right, Ted hides what he has under one of the most boring wardrobes known to mankind.
He approaches every guy at Babylon with one thought in his mind: "How fast are they going to reject me?"
He also has a secret crush on Michael, as well as a predilection for co-dependent relationships. He's past 30, and feels like troll-hood is just around the corner.
His biggest joy is being a porn connoisseur, and he knows all the best porn sites on the web.
Earliest ambition:

To be an opera singer or a fluffer on a porn film.

Favorite Aria:

Mozart - Act II, Sesto's Aria from La Clemenzia Di Tito

Favorite Junk Food:
Vanilla Pudding

Guilty Pleasure:

Surfing porn sites while at work.

Things that irritate him:

Beautiful guys who reject him
Brian getting any guy he wants
Michael being in love with Brian

Seven Favorite Jeopardy Categories:
Numbers Crunching, Wacky Websites, Parisian Potpourri, Dear John, Wine-o-rama, Teen Heartthrobs and Don't Callas we'll Call You (anything related to Maria Callas!)

Items that are always in his refrigerator:

A bottle of vintage Dom Perignon that he's saving for a special romantic occasion (it's been there since 1989.)