Info > Characters
Justin Taylor - He's Just Coming Out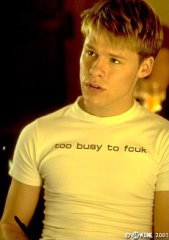 Justin, the new young star on the Pittsburgh queer scene. he's a hottie with a substance... and by the way, DO NOT call him a twinkie.
This talented young artist is openly -- some might say hopelessly -- smitten with Brian and believes Brian loves him... whether Brian will admit it or not.
Earliest Ambition:

To be the next Michelangelo or Lucien Freud -- but with a six-pack of abs.

Favorite color:
Flesh
Favorite music:
Pop, house, trance, dance, british rock
Guilty pleasure:
Daydreaming about spending his life with Brian
Book or magazine he couldn't live without on a desert island:
His sketchbook

Favorite Junk Food:

Sweet tarts
Things he hates:

Hates that his mom goes through his stuff
Hates that his mom asks a lot of questions
Hates that he always has to tell his mom where he is
Hates that people think he's too young
Hates the homophobia at school.
Hates straight boys who mess around with him in private, but diss him in public.

Favorite Old Time Television Character:
Dawson Leary ("Dawson Creek" is an old shoe to Justin)
The One item that's always in his refrigerator:
Anything fattening (he's seventeen for chrissakes! He can eat anything and still be gorgeous!)

When Justin met Brian:

See Episode One of Queer as Folk.