Info > Characters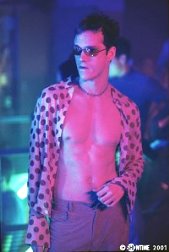 Emmett Honeycutt - The Color of the Party
Perhaps the proudest queer on Liberty Ave., Emmett marches to the beat of his own fashion drummer. He lives fabulous, loves fabulous and dresses even more fabulous.. that is if you;re a fashion victim with three maxed-out credit cards and 7 pairs of Gucci sunglasses.
But he does get an incredible discount at Torso, the queer clothing boutique where he works as a "retail slut."
Funny and fierce, this queer isn't afraid to get in touch with his soft side or yours... or that adorable Latin hottie who works at the tanning salon.
Earliest Ambition:
To be faaaaabulous!
Favorite Color:
Is see-through a color?
Favorite fashion designer:
Versace or Tom Ford
Guilty Pleasure:
People watching... and then doing imaginary makeovers on them.
Things that irritate him:

When people wear clothing that doesn't suit them.
People with love handles that bare their midriffs.
Gay men that can never let themselves get "queeny."
Shoddy-zippers.
Bad Cher imitators.
When Ted whines about not being able to get a date.

Seven Favorite Jeopardy Categories:

Disco Divas, Fashion Divas, Hollywood Divas, Double O-Seven Divas, Southern Divas and She's Like Buttah.
Dead Person he'd most like to meet:
There's so many! But if he has to narrow it down: Natalie Wood... just to find out what really happened that awful night.
Favorite Old Time TV Character:
Endora from Bewitched
The One item that's always in his refrigerator:
Cucumbers -- mostly for putting on the eyes after a night out of partying

Favorite food:

Milk and Oreos

Favorite Fad Diet:
Suzanne Somers' Eat, Cheat, and Melt the Fat Away Diet
If hosting a dinner party, his guests would be:

Cher, Aretha, Christina Aguilera, Barbra, Britney (remember not to seat her next to Christina), Madonna, Brian, Michael, Ted, and the fabulous porn star Zack O'Tool.

Fashion Trend he wishes would die:

Overly baggy clothes