Info > Cast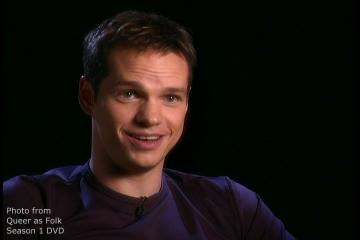 Peter Paige, an accomplished theatrical and TV actor/director with a list of diverse credits, recently starred in the ShowTime/Paramount original film "Our America" opposite Josh Charles and Vanessa Williams. "Our America" is a story of a NPR DJ who changes the lives of two misdirected inner-city youth. During his summer hiatus Paige returned to the stage in the premiere of Jessica Litwak's "Secret AGents."
In addition to acting, Paige was ardent about writing and directing. In fourth grade he wrote, directed and starred in his first original play: "Grease: The College Years," a clever spin-off of the popular firm, "Grease." Paige received a full scholarship to Boston University's prestigious School of Theatre Arts where he truly developed his acting talents. The ambitious actor moved to New York in pursuit of more plentiful acting work. Paige associated himself with a group of young playwrights, directors and actors at Playwrights Horizons, a theater where he workshopped dozens of new plays. He toured the country performing Moliere's "tartuffe" (in English and in French) and performed at major regional theaters. Paige eventually relocated to Portland, Oregon,where he worked for two years performing everything from the classics such as "A Midsummer Night's Dream" to edgy, contentious works by promising young playwrights.
It was one of Portland's stages that his current manager discover Paige. paige moved to Los Angeles soon after. Paige's first audition in LA landed him a guest spot on "Suddenly Susan" as Neil Pomeratz, the nervous undertaker. This was followed by roles on "Caroline in the City," MTV's "Undressed," "Time of Your Life," "Movie Stars," and "Will & Grace," among others. Paige also continued collaborating on several projects such as "Twisted" and "Pantophobia," performed at theatres around Los Angeles. This stream of roles eventually led the actor to his first TV series, playing outrageous "Emmett Honeycutt" on Queer as Folk.