News - Feature Stories - Magazine
tv preview: Queer and Queerer
By Bruce C. Steele
An Advocate.com exclusive, posted March 6, 2003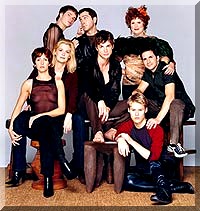 In its third season on Showtime, Queer as Folk, which began as a series about gay male promiscuity, has grown into a show about negotiating commitment.
Getting naked, getting laid. That was the driving force of much of the first season of the Showtime series Queer as Folk—and appropriately so, since the show began by adapting the sex-centered story lines of the original, six-hour British series of the same title. Seventeen-year-old Justin (Randy Harrison) lost his virginity to 29-year-old serial seducer Brian (Gale Harold); Michael (Hal Sparks) clearly wanted to bed best friend Brian; accountant Ted (Scott Lowell) complained a lot about not getting lucky; flamboyant Emmett (Peter Paige) let himself get picked up by all sorts of bossier men. And the lesbians, Melanie and Lindsay (Michelle Clunie and Thea Gill)—well, they were the odd men out (so to speak), because despite their constant bickering, they were the only ones in a committed relationship.
Two years and 42 episodes later, as the third season of Queer as Folk has begun (debuting new episodes each Sunday night), the odd man out is now serial seducer Brian—the only major character not in a committed relationship. Carrying over the plot threads from the end of season two, Justin, now 19, has broken up with Brian and is dating dirt-poor student violinist Ethan (Fabrizio Filippo); Michael is in his second year coupled with college professor Ben (Robert Gant); and Ted and Emmett are trying to make it as boyfriends. Oh, and the lesbians: They're still together, and still bickering. (Do they want another baby? They fight about it. And who should be the father? They fight about it.)
Anyone who expected one or more of these relationships to split as the new season begins is bound to be disappointed: Rather than taking the easy route of detailing how partnerships fall apart, Queer as Folk—in the six episodes available for preview—takes the more difficult path of tracing how gay men (and lesbians) have to work to keep things together.
It's an interesting and even liberating choice for a show whose chief appeal has always been flesh and fantasy. In season 2 (recently released on DVD), Ted started his own instantly successful gay porn Web site (flesh). Emmett found and lost a long-term partner with millions of dollars (fantasy). Brian had sex with countless nameless male models in the cavernous back room of imaginary Pittsburgh dance club Babylon (flesh) as well as with several potential clients at the ad agency where he works (fantasy). Justin briefly became a briefs-clad go-go boy and quasihustler (flesh), then helped create an instantly successful gay comic book with Michael (fantasy). And so on. Where will QAF find its flesh and fantasy among four mostly monogamous couples? Five couples, if you count the recurring story line in which Michael's mother (Sharon Gless) is dating a frumpy police detective (Peter MacNeill).
Well, judging by the early episodes, there's still ample opportunity for flesh. Brian is still Brian and still picks men up with incredible ease and frequency, and still haunts the back rooms. How he manages to find hot men in Pittsburgh he hasn't had sex with yet is anyone's guess. (My guess is that the Toronto casting department will have to start recycling any minute now. "You there, with the muscles. I know you gave Brian head in season 1, but if you dye your hair, we can use you in a three-way next week.") Ted still runs an Internet business that bears no resemblance to any real subscriber porn site but does bare a lot of male flesh. Ben goes to the gym a lot, so there's an abundance of locker-room scenes. Justin and Ethan tend to lie around Ethan's apartment naked whenever possible. And Melanie and Lindsay touch each other's naked breasts now and again. Flesh is not a problem.
Fantasy, however, is wearing a bit thinner, and some aspects of the developing story lines about Ted and Emmett's nesting and Ben's response to a friend dying of AIDS strain the limits of credibility. We know these characters, and we would like to think that they're smarter than they act in some season 3 situations. I won't spoil the specifics, but you'll know these awkward twists when you see them.
What works best in the new season is the tension that develops from character clashes: What happens when Ethan has to weigh his lifelong commitment to his musical career against Justin's needs as his new boyfriend? When hedonist Emmett and pragmatist Ted find that their definitions of monogamy don't correspond? When Brian faces off against an opponent as unscrupulous and amoral as he is? When Michael and Justin have to face their anger over how each behaved toward Brian?
Queer as Folk remains the gay community's ground-level drama. Its chief concerns are the most basic questions that swirl around sexuality, sexual identity, the oppressive effects of homophobia, and, in this new season, the navigation of committed relationships. Even with a fresh batch of writers for this outing, the show remains uninterested in the less tangible questions of human existence. But QAF fans don't tune in expecting complicated contemplations of morality and mortality, clipped and nuanced conversation, or rich dramatic irony. The jokes are broad and bawdy, the boys are beautiful, the sex is sizzling, and the characters' problems are meat and potatoes (you should excuse the expression). There's flesh, there's fantasy, and—more and more this year—there's family. And for Queer as Folk, that's enough.
[END]