News - Feature Stories - Magazine - Inside Queer as Folk
Inside Queer as Folk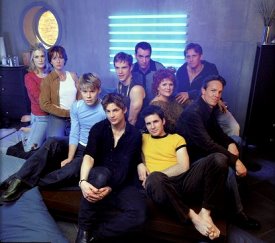 An exclusive, uncut, and uncensored look behind the scenes on location with Showtime's big, bad, gay bombshell
By Dennis Hensley
The Advocate
November 21, 2000
The scene now being filmed on the Toronto location of Showtime's Queer as Folk series is set in the modest, comic book–strewn Pittsburgh apartment of Michael, a sweet-natured but put-upon assistant department store manager. As the scene opens, Michael (played by former Talk Soup wiseacre Hal Sparks) is facing his bathroom mirror, nervously preparing for a date with Dr. Dave (Chris Potter of Silk Stalkings), a humpy chiropractor Michael fell for while lying facedown on his examining table.
"I'm putting a little rouge on my penis to make it look longer," quips Sparks, the show's unofficial morale-booster, just before the cameras roll. "A nice horizontal stripe."
"Action" is called; there's a knock at the door. Michael's over-the-top roommate, Emmett (Peter Paige), skitters off to answer it, and in struts the wrong guy—Brian, Michael's best friend and the show's resident shit-stirrer (played by sexy newcomer Gale Harold). Instantly the tension rises. Michael has long carried a torch for Brian, and Brian uses that to keep Michael where he wants him: beholden yet unfulfilled. Brian's no sooner plopped himself down on the sofa and doffed his designer sunglasses than he starts making trouble by helping himself to the chocolate éclairs that Michael bought especially for his outing with Dr. Dave.
"Insert it into your mouth in a phallic way, Gale," coaches the episode's director, Canadian film vet David Wellington, between takes. "Make it a performance." Harold takes the note gamely and in subsequent takes looks longingly at the éclairs before swallowing them whole. Linda Lovelace would be proud.
"This is such a blast," Harold chuckles after the scene is wrapped. "I get to be the ultimate antihero every day. Like in the scene today, I was only there to cause problems." Like Stuart from the original U.K. Queer as Folk, on which the Showtime project is based, Brian is an Olympic-level bed hopper and completely unapologetic about it. Asked how many different sex-scene partners he's had so far, Harold laughs and says, "That's a hard question." He counts on his fingers for at least a half a minute, then gives up. "Somewhere over 10."
"That's Brian, the bad boy who never grows up," laughs Dan Lipman, one of the show's executive producers, a bit later in the show's production office. (The set is now off-limits while Sparks and Potter shoot a love scene between Michael and Dr. Dave in Michael's childhood bedroom.) "We all have friends that we're not too wild about, but why do we like them? Well, because we understand." Still, Lipman is quick to point out that Queer as Folk has more to offer than men behaving badly. "We have a whole tapestry of different kinds of gay characters," boasts the producer, who along with his work and life partner, Ron Cowen, created the series Sisters and the AIDS-themed TV movie An Early Frost, both of which won Emmys. "There's a domesticated lesbian couple with a child; Brian and Michael, who are about to turn 30, which is a certain kind of death in this world. There's Ted, who is 33 and running after young guys who are inappropriate for him; Dr. Dave, who is in his late 30s and very relationship-oriented. There's Michael's mother, Debbie, played by Sharon Gless, who is so overly supportive you want to strangle her. There's also Michael's uncle, who's in his late 40s and has AIDS and [has been revitalized] because of the cocktails and has to deal with his life; and, of course, Justin, a 17-year-old gay young man who is not in conflict about his sexuality. This is not an after-school special where he's walking on the beach in scenes of emotional conflict…"
Adds Cowen, "This is probably the first time in history that gay people will actually get a chance to see their lives portrayed truthfully on television with no restrictions and no censorship, unless Showtime kowtows to the MPAA ratings board. But it was certainly written and filmed with the intention of showing all aspects of gay life honestly." Yes, that includes foam parties, nipple piercings, recreational drug use, and scads of same-sex lovemaking scenes, including repeated couplings between our 29-year-old Jeep-driving, loft-living lothario, Brian, and our baby-faced but hungry for experience high schooler, Justin. "Some gay people will be upset that straight people are seeing things that they would wish they would not see," asserts Cowen. "But I think politically correct behavior is a form of internalized homophobia, that you are basically afraid to show straight people what your life is really like, and so you put forth a PC image out of fear."
For Thea Gill and Michelle Clunie, the actresses who play the lesbian couple, dramatizing the frustrations, expected and unexpected, that come with starting a family made for a refreshing challenge. "It seems like any time I see lesbians portrayed in film, they have to be carrying guns and doing something dangerous," says Clunie, who plays no-nonsense attorney Melanie. "We're just two women trying to cope with life." But that doesn't mean they don't get frisky. "They are in sexual situations," vows Cowen. "They make love; we see that."
That's good news to Gill, who plays Melanie's lover, Lindsay, a college art teacher who was artificially inseminated with her friend Brian's sperm. "It's been pretty subtle for us so far, so Michelle and I are like, 'OK, we're ready for our big sex scene now!' "
Hensley, author of Misadventures in the (213), also writes for TV Guide. For his complete report from the set of Queer as Folk, including openly gay cast member Randy Harrison's first interview with the gay press, pick up the November 21 issue of The Advocate, on sale November 7.

Meet the folks
A freshman yearbook for the Queer class of 2000
Hal Sparks
Folk role: Michael, the sweet-natured, comic book–obsessed assistant manager at a Big Q Mart
U.K. equivalent: Vince
On the Queer as Folk experience: "I think the producers brought me in on a lark, thinking it might be fun to meet the Talk Soup guy, and then in the middle of the audition I could see them looking at each other, going, 'Did you know he could act?' I do feel like I'm putting myself out on a limb, because America isn't ready for this show. If they were, there would be no point in doing it, to some degree."
Gale Harold
Folk role: Brian, the sexually insatiable, brutally frank advertising executive
U.K. equivalent: Stuart
On the Queer as Folk experience: "I was at a club here in Toronto, and these straight high school girls who were fans of the British version came up to me and they said, 'You're playing Stuart's character? Oh, my God!' They were absolutely obsessed. I think that's a good sign."
Randy Harrison
Folk role: Justin, the so-cute-it-hurts 17-year-old aspiring artist
U.K. equivalent: Nathan
On the Queer as Folk experience: "I was nervous before I came here, because I had never worked on-camera before. So I read all these books about film, and I made marks on my hotel room floor and practiced hitting them. It's way easier than you think it would be."
Peter Paige
Folk role: Emmett, Michael's roommate, an out, loud, and proud boutique manager
U.K. equivalent: Alexander
On the Queer as Folk experience: "We have a scene at a foam party coming up, and Emmett's wearing a very nice Diesel bathing suit. I wanted water wings, but I had to settle for rubber boots. I've actually been to a foam party once, but it wasn't very good because there wasn't enough foam. It was just bad planning."
Scott Lowell
Folk role: Ted, the loyal, unassuming 30-something accountant with a taste for porn
U.K. equivalent: Phil
On the Queer as Folk experience: "My parents who raised me are fine with the show. My birth parents, who I've just recently met and who are Pentecostal, are not so fine with it. My birth mother said, 'Well, it's not really something we can put on the church bulletin board, is it?' "
Chris Potter
Folk role: Dr. Dave Cameron, Michael's hunky relationship-minded chiropractor
U.K. equivalent: Cameron
On the Queer as Folk experience: "This a lot meatier and more challenging than the past work that I've done—action television series like Silk Stalkings and Kung Fu: The Legend Continues. My wife said I went from kicking ass to licking ass."
Thea Gill
Folk role: Lindsay, the warm, nurturing university art teacher who's having a child with her lover, Melanie
U.K. equivalent: Romy
On the Queer as Folk experience: "I have a pretty supportive circle of friends, but there were a couple of people who kind of snickered when I told them about the show. Until then, I hadn't had direct experience with people who are possibly homophobic and narrow-minded. It was really a jolt."
Michelle Clunie
Folk role: Melanie, Lindsay's tough-talking lawyer lover who has always detested Brian, the biological father of their baby
U.K. equivalent: Lisa
On the Queer as Folk experience: "During the bris scene, the baby crapped all over my arm, and I hadn't signed on for that. That's why you have to really go through your contract with a fine-tooth comb."